In both Low and High Ropes activities, participants work to improve both verbal and non-verbal communication skills. The level of participation is determined by the individual. Debriefing sessions after each activity help participants process the decision-making strategies used and apply the situation to real life.
Low Ropes Course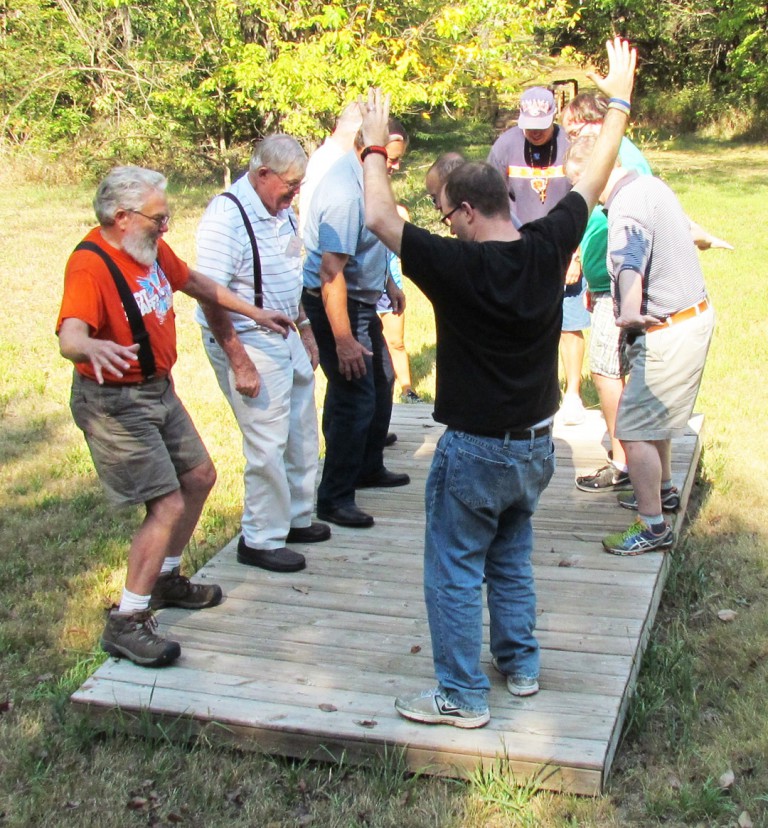 The low ropes course offers participants of all ages and abilities a chance to strengthen interdependence and team building skills.
The low ropes course consists of 11 different challenges that require participants to work together to accomplish a common goal. The following Low Ropes Initiatives are available: Team Trail, Giant's Finger, Spider's Web, Telephone Pole, Whale Watch, William's Bridge, Blindfolded Maze, Trust Fall, Wild Wall, Wild Woozy/Bermuda Triangle, and Partnered Trust Walk. Indoor Initiatives also available.
High Ropes Course
The high ropes elements are designed to push people past the limits of their comfort zone to overcome both mental and physical obstacles. Safety of our participants and trained staff members is our number one priority. Helmets, harnesses, and a belay system will be used at all times.
The following High Ropes Initiatives are available: Vertical Playpen, Sailor's Crossing, Floating Platforms, Swinging Vines, The Log, and Zip Line.
The high ropes course is restricted to those who have completed 8th grade and older. Challenge Course Permission Form must be signed prior to participating on the high ropes course.
Challenge Courses: Who Can Benefit?
Corporate Groups, Civic Leadership Groups, Church Groups, Student Leaders, Teachers and Administrators, Fraternities & Sororities, and many more.
Find out how your group can benefit from a half or full day Challenge Course experience!
Contact Sid Rutland, our camp administrator, at
[email protected], or 316-775-1222